Make your outdoor TV experience as great as your outdoor adventures!
Fastest and Easiest Setup
No Wi-Fi required - access live TV without buffering.
HD Advantage
Get crystal-clear HD channels anywhere outdoors.
Pay-As-You-Go Programming
Packages starting at $47.99/mo. Only pay for the months you use. No credit check required.
Already a DISH Customer?
Get DISH Outdoors for just $5 a month more.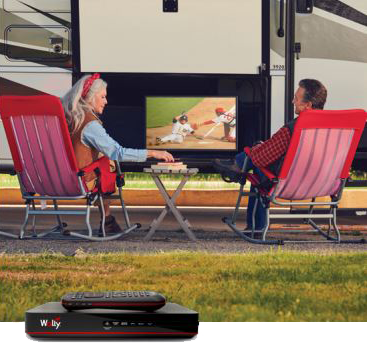 Introducing the state-of-the-art redesigned DISH Tailgater Pro with the first-ever ultramodern clear cover. The award-winning design includes an exclusive interactive on-screen display for hassle-free setup for DISH programming.
Tailgater®
The redesigned DISH Tailgater is a fully automatic, portable, and lightweight satellite antenna that sits on the ground or permanently mounts to the roof of your RV.
Playmaker®
The DISH Playmaker is sleek and compact. It's our smallest portable automatic antenna, making it easy to take with you wherever you go.
DISH OUTDOORS
RVING
TAILGATING
CAMPING
TRUCKING
CABIN
Okoboji Wireless is your local DISH Authorized Retailer and can help you with installation and answer your questions about equipment.
Requires antenna and receiver will apply All prices, packages, programming, feature. All charges, including monthly programming, pay-per-view and equipment upgrades, must be paid in advance, failure to pay by due date will lead to service disconnection within 24 hours. Offer subject to terms of applicable Promotional and Residential Customer agreements. Taxes or reimbursement charges for state gross earnings taxes may apply. Additional restrictions may apply HD programming, local channels, or regional sports networks may vary by geographic location. IND 23410